Our girl-boy shoots are a little different than most adult sites. The two main diffs are:
We only shoot with real-life couples. The commitment and love shines through and makes the shoot so much better!
Both models are paid the same amount (typically, male models are paid just 25% of female models). Now that's feminism!
Our girl-boy shoots aim to show the reality of love-making, not the hyped up, aggressive-male style that is typical of most mainstream porn. But, it's not only about the romance, either – you'll really have PIV sex! We hope to show a balance, and help our customers experience a healthy and sexy act.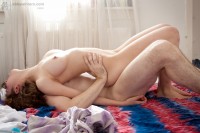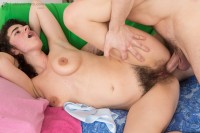 If you – a female model – has done some shoots with us, we'd love to make a shoot of you with your partner as well!
Here's some videos couples recorded of themselves, describing their girl-boy shoot experience.
ABOVE: Sofi and Julio.
ABOVE: Caisa and Ask. Fun fact # 1: Caisa and Ask recorded this video for us in 2018, after they made their girl-boy shoot in 2014. Fun fact # 2: In this video, Casia and Ask describe how supportive their Shoot Producers were when their shoot was made. In fact, their Shoot Producers had both been models for us in 2011, and are now senior employees in our company. Masie is our Shoot Producer Trainer, and Izzy is our Production Coordinator.
What couples have said about their experience
"It was our best experience happened in our relationship" – Amy & Jasper
[the crew] "were really friendly and made an incredible and comfortable environment" – Carmina & Pablo
"It also adds a cool little quirk to the relationship, like something unusual that we did together & are very proud of and certainly not afraid to talk about!" – Tahlia & Ryan
"Although Bret was a little nervous we both found it to be a fun and exciting experience" – Alex & Bret
"I liked how the shoot team treated my partner just the same as me, including him in jokes and making him feel at home. This was especially helpful as he was probably nervous and wanted to seem confident in front of strangers" – Kylie & Marcus
Read all the feedback from couples who have appeared in girl-boy shoots.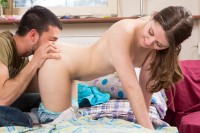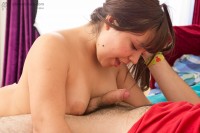 Girl-boy FAQ
How much do girl-boy shoots pay?
We pay €750 to the female model, and €750 to the male model.
If necessary, we'll pay for flights and accommodation to travel to our Shoot Producer.
I don't have a steady partner, but there's this FWB / person I have sex with now and then…
We're really seeking to capture two people in love, make love.
We've got a few ways of telling if you guys are trying to fake us out, but if you really appear like you're really in love that's good enough for us  (but that means, of course, you prolly are in love! aww 😍 👫 😘 💖💍 🔔 💒  👰 🎊 🤰 👪 🤰👨‍👩‍👧‍👦 ).
If you don't currently have a suitable partner, it means this shoot is not for you right now. When you do, let us know, and we can talk about it then. No rush.
What do the girl-boy shoots look like?
We have a bunch on our site.
The female model should already have website access, so you can see all the shoots in detail, but if not, the guest area for each shoot has a 60-second promo video and a bunch of promo images, so you can get a good sense of what we're making (without logging in).
We think they're pretty hot, showing respectful and passionate love-making.
How does a girl-boy shoot work?
If the couple is interested in-principle, the male partner goes through the same Info Session process as the female model has already – he needs to be informed about the risks and benefits as well. This consists of a few short questionnaires, and a phone conversation. We make an assessment of his suitability for our site – it's very rare a male is rejected.
Then, some training stuff, where we learn more about each other – how you guys have sex, and what we're really making here. There's some homework 🤨. We have a Skype session with the couple to discuss your learnings, and answer your questions.
If you'd both like to go ahead, the Shoot Producer will set a date, place and time for your shoot, that suits you both. Girl-boy shoots are shot over two consecutive days (to give him some recovery time; nerds can learn more about the Refractory period). The Stills day is first, and is typically five hours with some breaks. The video day is around seven hours with breaks.
Your Shoot Producer has a plan of what they hope to achieve on the shoot days. While you'll just be "having sex", we need to make sure we capture it the best way for our customers, so there is some stopping and starting (but we're conscious of how erections can sometimes not work how we want), and do-overs.
Common to stills and video
We start off with a scene "introducing" the female model (her, alone, doing some kinda activity). Then she's joined by her male partner.
There'll be a section of foreplay, kissing, undressing, doing sexy-but-not-actually-penis-in-vagina (PIV) sex stuff. Some enthusiastic oral sex, giving and receiving happens next. Then, the Shoot Producer will get you into several different positions for the PIV section. Everyone (well, both models) has an orgasm, there's some afterglow cool-down activities, the gooey cleanup (we capture this too!), then we're done.
For video only
Video is similar in many ways to stills, but there are some additional and different things.
At the start of the video day, we record a short clothed video interview of the couple. Then, we'll shoot a series of closeups (oral giving and receiving, PIV penetration), so in the "main" part of the shoot we don't have to get in too close and disruptively – or editors can put in the closeups in the right place.
Then we shoot the scene, with as little direction from the Shoot Producer as possible. We finish up with a short nude video interview of the couple.
The precise order of events is different in every shoot, and the input of the couple is very important – his and hers preferred positions and activities are always incorporated.
For both stills and video, we'll get a range of shots from extreme closeups to wider contextual shots.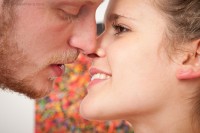 So, who else is in the room with us while we roast the broomstick?
For stills: The couple, and the Shoot Producer.
For video: The couple, the Shoot Producer, and their second-video-camera person.
Is the shoot mostly about him? Or her?
Girl-boy shoots we make are mostly about the female model – our customers are mostly heterosexual men, and want to imagine having sex with the female model themselves.  When we shoot a scene we work to have as little of him on-screen as possible.
That being said, when two people have sex, it's pretty much impossible to not show both of them! As a rough guide, about two-thirds of the scene will show mostly the female, and one third will show the male and female.
Our aim is to show the love between the couple from the female's perspective, and his "reflected love" in her eyes. Perhaps this sounds a bit cold-and-calculating to you? Check out our girl-boy shoots and see how it looks. We reckon it's actually pretty nice!
We don't like <specific sex act>. Will we have to do it?
You never have to do something you don't want to do, but there are a few basic requirements we have before we consider a shoot to be complete and models can be paid. In a nutshell, we need a usable shoot for the website (around 45 minutes of edited video, around 300 images). That includes:
Signed Release forms (and Contracts, if the shoot occurs in Netherlands)
A commitment from both models to make an excellent shoot
Passionate kissing
Giving and receiving oral sex
Penis-in-vagina sex
An orgasm for him for stills
An orgasm each for video
The female of the couple has probably already done several shoots with us, and so has a good sense of how it works and what we expect in general.
If there are specific things you don't want to do – even if it's on the list above – discuss it with us, and we'll try to work something out.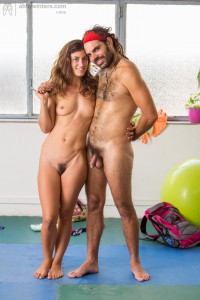 [boy] I'm worried I won't be able to get it up at the right time?
First up, to be clear, the male is not expected to be rock hard for the entire 5-7 hours of each shoot day!
Not being able to get an erection when you want is officially called Erectile Dysfunction (ED), and can vary in severity. Certainly, having sex in an unusual place in front of others – with cameras – is enough to make anyone anxious! We do what we can to minimise that with a series of warm-ups before the shoot, and keeping the environment low-pressure and casual throughout.
If ED is often a problem for you, we encourage you to seek help from a doctor. There are some excellent options available.
On the day, if it comes up (sorry, couldn't resist!), our policy is to try stopping recording and leave the couple alone for a while to work on the problem with no distractions. Or maybe it's time for a meal break?
There are also options to continue the shoot and do some other stuff that does not involve an erect penis. We're sure that you can think of something, and your Shoot Producer also has a plan for this.
[boy] I'm worried I'll cum too early?
Officially, this is called Premature Ejaculation (PE), and it's a problem for us making shoots like this – not to mention for the couple themselves. As for ED (above), if this is a chronic problem for you there are some good solutions out there to help – speak to your doctor – don't be shy, you deserve an awesome sex life!
During the shoot, it's absolutely no problem to slow it down or pause entirely to reduce stimulation, but being conscious of when you're close to the point-of-no-return is necessary for this to work. Might need some practise (tough job).
Depending on your refractory period (how long after an orgasm til you can get an erection again), a break may be all that's necessary, and you'll be somewhat desensitised as well so the next session you may be able to hold it for longer.
But, typically we'd just work on some other activities that do not require an erect penis (there's plenty!), and re-try the erect-penis stuff later in the day. Or, we could stop the shoot there, and try again on the the video day tomorrow (shoot stills in the morning). That can get tricky, but Shoot Producers can be flexible like this usually.
So, does he cum on her face?
If that's what you guys normally do, that's fine.
But generally we prefer the male cum inside the female's vagina. Some cum will dribble out – that's a common fetish our customers have! (charmingly called a "creampie").
What's the deal with anal sex?
Anal sex is never required, but if you are both down, our customers love to see it!
Or just some light anal play on her is fine as well.
Can we use a condom?
Nooooo.
Here's the thing… our customers pay us so we can pay you. We gotta make what customers want – essentially, a fantasy – and while there are some condom fetishists out there, the huge majority of our customers are not. Basically no one fantasises about having sex with a condom, right?
We're all for safe sex, and we encourage couples to get a thorough STI test before their shoot (especially if they normally use condoms). We'll pay for it, too!
From a birth-control perspective, we know that some women are unable to take oral contraceptives. No problem, there are several other options (including a patch, IUD, cervical cap, diaphragm, and injections) that might work. Some of these take time to organise, but there's no rush from our side. We definitely recommend consulting your doctor.
Our rules on condom usage are strict, and are a "deal-breaker" for us. 😐
We do some pretty kinky stuff, can we bring it to the shoot as well?
Possibly.
We're making material for our customers and our fundamental goal is to show real people having sex they way they really do… but we have to balance that with satisfying most our customers (so they stay our customers!).
For example, we're not a BDSM site, but some light BDSM play in some parts of the shoot is fine. But a whole shoot that's BDSM-themed is not right for us.
There are also some things we're ethically opposed to (violence-related sex is the main issue here), and safety issues to consider (you can't be drunk or under the influence of recreational drugs).
Chat with us about it before the shoot, and we can likely come to a solution that suits you and us.
How do we prepare?
So, you guys have had sex together before… right? 🤨
Once he has applied as a model and been approved, the Five P's apply: Proper Preparation Prevents Piss Poor Performance. We're paying you a fair amount, so we want to capture the best possible images and video.
So, we ask that you both go through a 30-minute intro, and practise some specific things when you have sex at home. We'll tell you more about what our goals are with this scene, set some "assignments", set your expectations for what will happen on the day itself, and ask some questions that will help us plan the best scene possible.
Then, a 15-minute Skype call with a Model Liaison, where we ask you some more detailed questions, again, helping us plan for the best scene.
Then, we book the shoot, and you keep practising. Tough job, right? 😅
We'd love to do this! What do we do next?
Awesome!
If both want to do it – it's important that both are comfortable – the male needs to apply as a model, and in the "How did you hear about us?" part, mention he's the male partner of the female model's real full name. We'll respond within one business day (if you do not receive a message from us, be sure to check in your spam folder).
The female model should email model.liaison@abbywinters.com and let them know their partner's name, and that he has applied on FPF. As described above, he'll go through the qualification process.
We'd love to make the shoot tomorrow, but it can take some time to get everyone in the same place and have the same availability – and we have to make sure he's fully informed – so it'll be a few weeks from now most likely.
—
End.